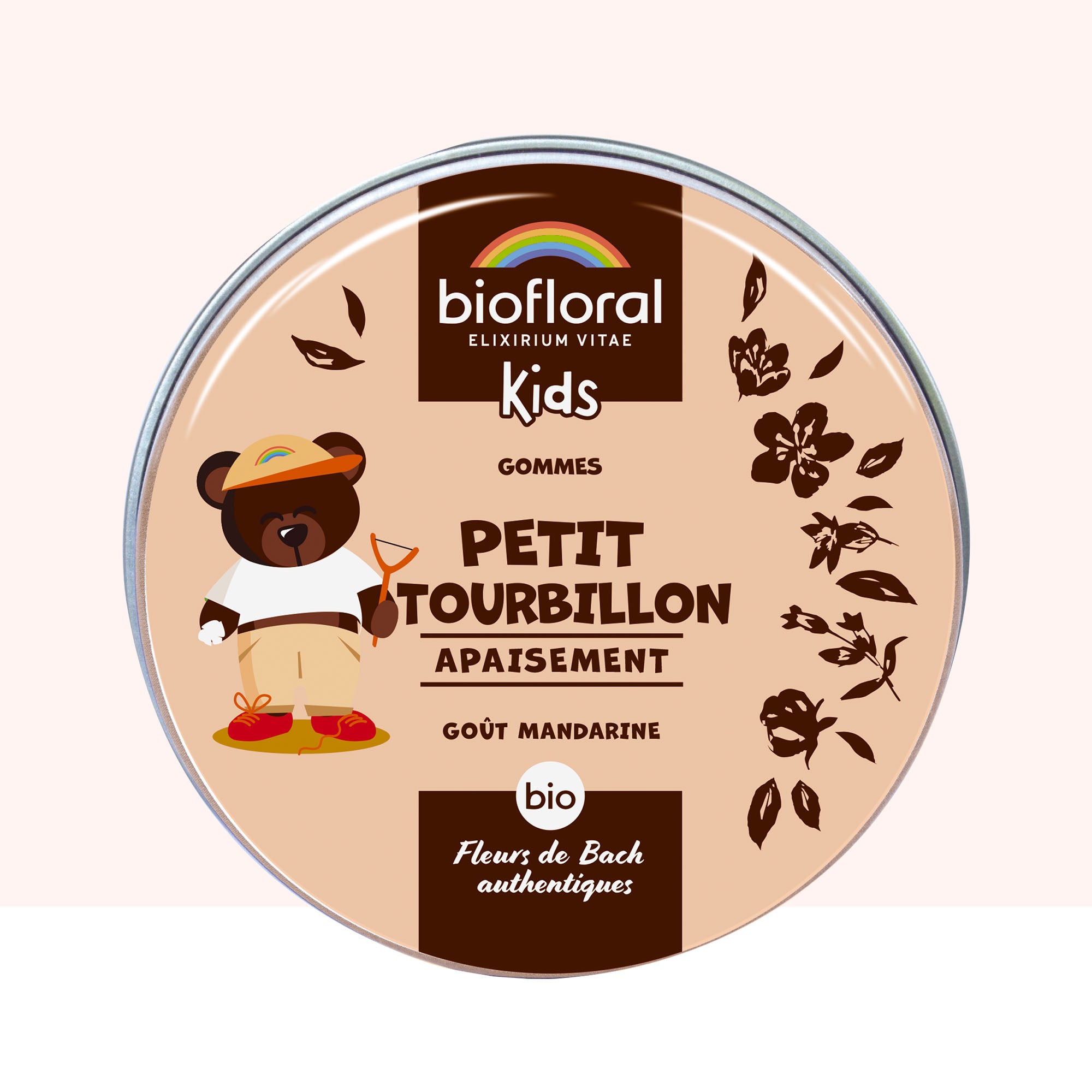 Children - Erasers
Petit Tourbillon children's erasers - Organic
Dedicated to small workers and their boundless energy.
detailed description

Channeling your child is not always easy, especially when it is a child full of energy. The Bach Flowers that make up these gums are ideal for better management of overwhelming emotions. They promote tranquility.
Composition

Gum Arabic*, Agave Syrup*, Natural Mandarin Flavor*, Bach Flowers*: Star of Bethlehem* (Ornithogalum umbellatum), Rock Rose* (Helianthemum nummularium), Cherry Plum* (Prunus cerasifera), Holly* (Ilex aquifolium), White Chestnut* (Aesculus hippocastanum).
How to use

Take 1 gum 4 times a day or, in case of an attack, every 15 minutes.
Astuces

Pour accompagner l'utilisation de ce complexe floral et mobiliser l'enfant, vous pouvez adopter une routine qui inclut des pauses actives courtes et régulières.

Voici une astuce naturelle simple : la Technique de la Tomate (Pomodoro)

La technique Pomodoro est une méthode de gestion du temps qui peut aider à mobiliser l'enfant et à gérer leur temps efficacement.

Voici comment l'appliquer :
• Définir une tâche : choisissez une tâche ou un devoir spécifique à accomplir.
• Minuterie : réglez une minuterie sur 25 minutes (une "tomate").
• Travaillez sur la tâche : l'enfant travaille sur la tâche jusqu'à ce que la minuterie sonne.
• Pause courte : après chaque "tomate", faites une pause de 5 minutes. Encouragez votre enfant à se lever, s'étirer, ou faire une activité physique légère.
• Répétez : après quatre "tomates", prenez une pause plus longue, environ 15-30 minutes.

Cette méthode peut être particulièrement utile pour maintenir l'attention des enfants et pour éviter la saturation.
Usage precautions

Do not exceed the recommended dose. Does not replace a varied and balanced diet or a healthy lifestyle. Keep out of reach of young children. This product is for use in children over 3 years old under adult supervision.

à partir de 3 ans



This product has no reviews yet.
*Free delivery from €35 of purchases at a relay point and from €50 of home purchases.