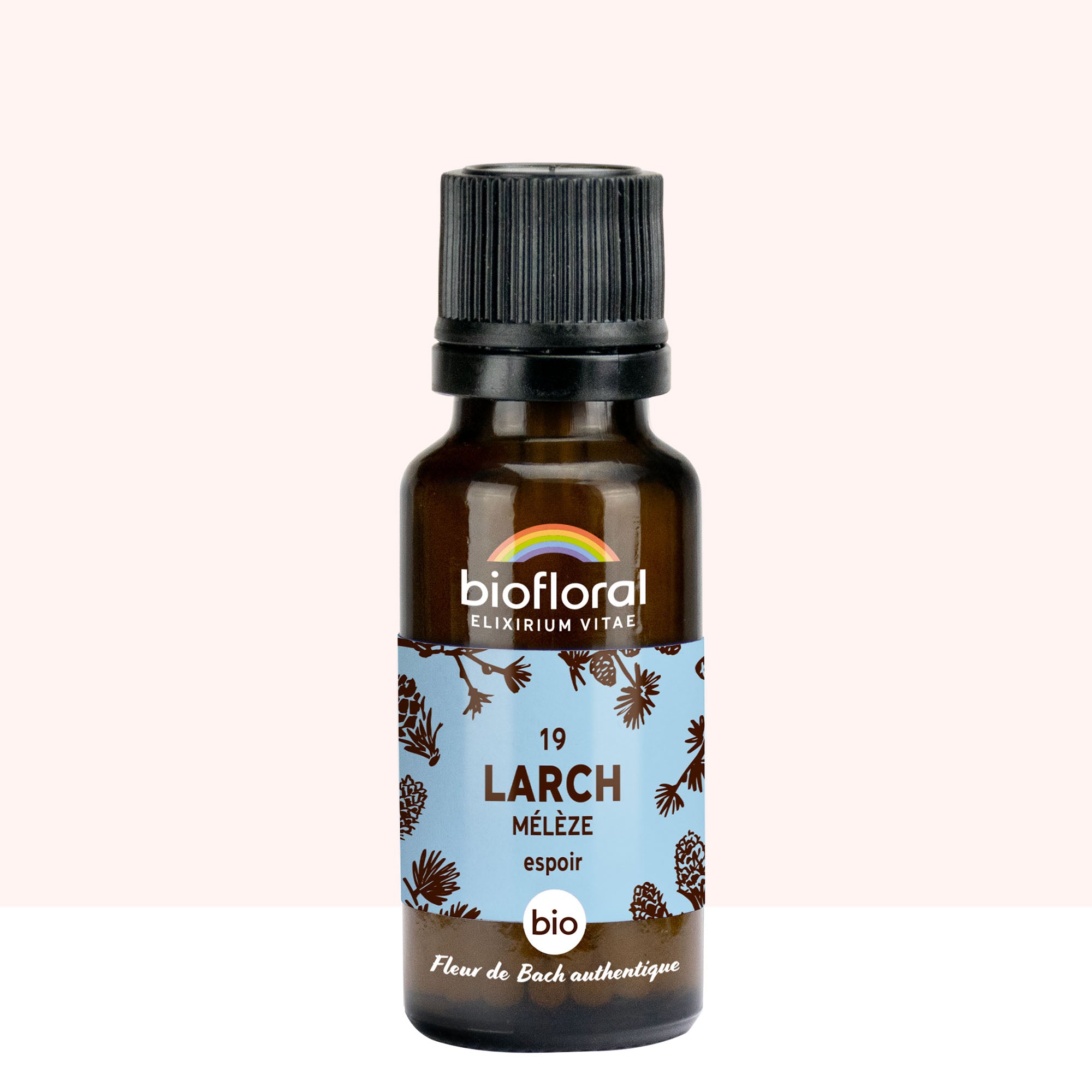 Bach Flowers - Granules
19 Larch, Mélèze - Bio
Passez à l'action en toute confiance grâce à la Fleur de Bach 19 Larch - Mélèze en granules.
detailed description

La fleur du courage et de l'espoir

Vous sentez-vous parfois submergé par le doute, paralysé par la peur de l'échec, et manquez-vous de la confiance nécessaire pour oser prendre des risques ?

Le Mélèze, dans la nature, est un arbre robuste et résilient, illustrant parfaitement la force et la détermination. De même, la Fleur de Bach 19 Larch - Mélèze en granules bio vous aide à embrasser votre propre force intérieure et à surmonter les obstacles avec détermination et sérénité.

Pratique, ce format vous permet de profiter des Fleurs de Bach sous forme de granules sans alcool. Inspirée de la méthode originale du Dr Edward Bach et formulée de façon artisanale, cette préparation est une option idéale pour ceux qui choisissent de ne pas consommer d'alcool. Ce britannique a mis en lumière le rôle essentiel des essences florales pour le bien-être émotionnel. Il a ainsi identifié 38 fleurs, chacune ciblant des émotions distinctes.

Les avantages de la Fleur de Bach 19 Larch - Mélèze :
La Fleur de Bach Larch - Mélèze intervient dans votre quête d'espoir et de courage, contribuant à une perception de soi plus positive et à une attitude plus déterminée.

Changements positifs:
• Participe à retrouver la confiance et le courage nécessaires pour surmonter les obstacles.
• Aide à voir les échecs potentiels non pas comme des barrières, mais comme des opportunités d'apprentissage.
• Contribue à maintenir un état d'esprit optimiste et déterminé, encourageant une vision positive de soi et de ses capacités.

La Fleur de Bach 19 Larch - Mélèze vous invite à explorer votre potentiel, en encourageant un état d'esprit courageux et positif.
Vivez votre vie pleinement et en harmonie grâce aux élixirs floraux, une voie douce et respectueuse vers le bien-être émotionnel.

La Fleur de Bach 19 Larch - Mélèze est également disponible en format compte-gouttes.
Composition

Ingrédients : Sucre de canne*, imprégné de préparation à la Fleur de Bach* : Larch (Larix decidua) à 1/240e selon la méthode originale du Dr Bach.
*Ingrédients issus de l'agriculture biologique.
How to use

3 à 4 granules à laisser fondre dans la bouche ou dans un verre d'eau. 4 fois par jour, pendant 1 à 4 semaines.
Usage precautions

Ne pas dépasser la dose recommandée. Ne se substitue pas à un régime alimentaire varié et équilibré ni à un mode de vie sain. Tenir hors de la portée des jeunes enfants.

Femme enceinte OK

Pour toute la famille



This product has no reviews yet.
*Free delivery from €35 of purchases at a relay point and from €50 of home purchases.