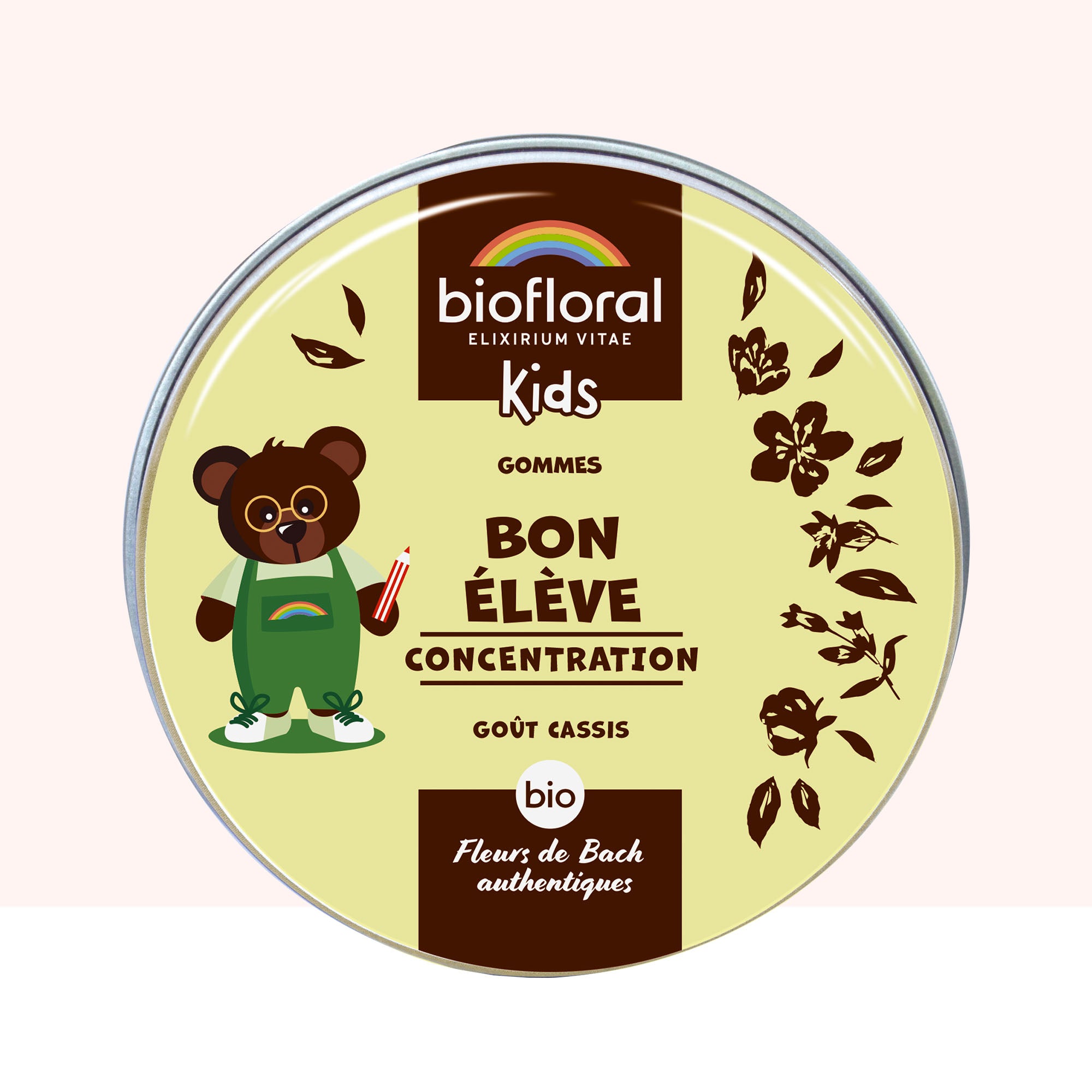 Children - Erasers
Bon Élève - Bio
Soutenez le parcours éducatif de votre enfant grâce au Complexe Bon élève en gommes.
detailed description

Un compagnon de confiance pour les jeunes élèves

Le monde de l'éducation est plein de défis et les enfants peuvent souvent être submergés par les attentes et les responsabilités.

Ce complexe Bon Élève Bio en gommes est conçu spécialement pour aider les enfants qui cherchent à être attentif et leur apporter rigueur dans l'apprentissage, les soutenant dans leur parcours éducatif grâce aux élixirs floraux.

Un allié quotidien pour un meilleur apprentissage :
Si votre enfant a besoin de se focaliser et d'acquérir plus de discipline dans son travail, ce complexe est un allié idéal. Il aide l'enfant à être plus réceptif et à mieux appréhender ses responsabilités, permettant ainsi une amélioration de l'écoute et de l'apprentissage.

Fabriqué de manière artisanale et inspiré de la méthode originale du Dr. Edward Bach, ce complexe est essentiel pour soutenir le bien-être émotionnel des enfants. Dr. Bach, de nationalité britannique, a prouvé que les essences florales ont une influence positive sur l'harmonie émotionnelle.

Les bienfaits de chaque fleur :
• N°19 Larch (Mélèze) : joue un rôle crucial en aidant l'enfant à prendre confiance en ses capacités et à développer une estime de soi équilibrée.
• N°28 Scleranthus (Scléranthe) : favorise l'équilibre et la décision, aidant l'enfant à faire des choix clairs et cohérents.
• N°11 Elm (Orme) : contribue à la diminution du sentiment d'accablement, encourageant l'enfant à surmonter les défis avec assurance.
• N°35 White Chestnut (Marronnier Blanc) : apaise les pensées récurrentes et les préoccupations.
• N°9 Clematis (Clématite) : contribue à maintenir l'enfant ancré dans le présent et à réduire les distractions.

Quand l'utiliser ?
Ce complexe floral est adapté à toutes les situations quotidiennes où l'enfant a besoin de soutien pour rester focalisé et motivé.

Il est particulièrement utile quand l'enfant se sent débordé par ses tâches et responsabilités et aide à maintenir un environnement d'apprentissage calme et productif.

Changements positifs :
• Encourage une atmosphère d'apprentissage sereine et concentrée.
• Favorise l'équilibre émotionnel et la confiance en soi.
• Apporte une paix intérieure.

Grâce à ce complexe floral, vos enfants pourront aborder leurs responsabilités et leur apprentissage avec une nouvelle confiance et une meilleure assiduité, favorisant ainsi leur succès éducatif.

Ce complexe existe également en format granules.
Composition

Ingrédients : Gomme arabique*, Sirop d'Agave*, Arôme naturel de cassis*, Fleurs de Bach* : Larch* (Larix decidua), Scleranthus* (Scleranthus annuus), Elm* (Ulmus procera), White Chestnut* (Aesculus hippocastanum), Clematis* (Clematis vitalba).
*Ingrédients issus de l'agriculture biologique.
How to use

Prendre 1 gomme 4 fois par jour, ou en cas de besoin, toutes les 15 minutes.
Astuces

Pour compléter utilement le complexe Bon Élève Bio, vous pouvez également encourager votre enfant à pratiquer la méditation ou des exercices de respiration.

Des sessions courtes de méditation ou de respiration profonde peuvent l'aider à s'ancrer au présent et prendre conscience du travail à venir.

Par exemple, demandez à l'enfant de s'asseoir confortablement, de fermer les yeux et de se concentrer sur sa respiration pendant quelques minutes chaque jour.

Cette pratique peut aider à équilibrer son esprit et sa présence dans ses tâches quotidiennes, créant ainsi un environnement d'apprentissage plus harmonieux et serein.
Usage precautions

Ne pas dépasser la dose recommandée. Ne se substitue pas à un régime alimentaire varié et équilibré ni à un mode de vie sain. Tenir hors de la portée des jeunes enfants. Ce produit est à utiliser chez l'enfant de plus de 3 ans sous surveillance d'un adulte.

à partir de 3 ans



This product has no reviews yet.
*Free delivery from €35 of purchases at a relay point and from €50 of home purchases.