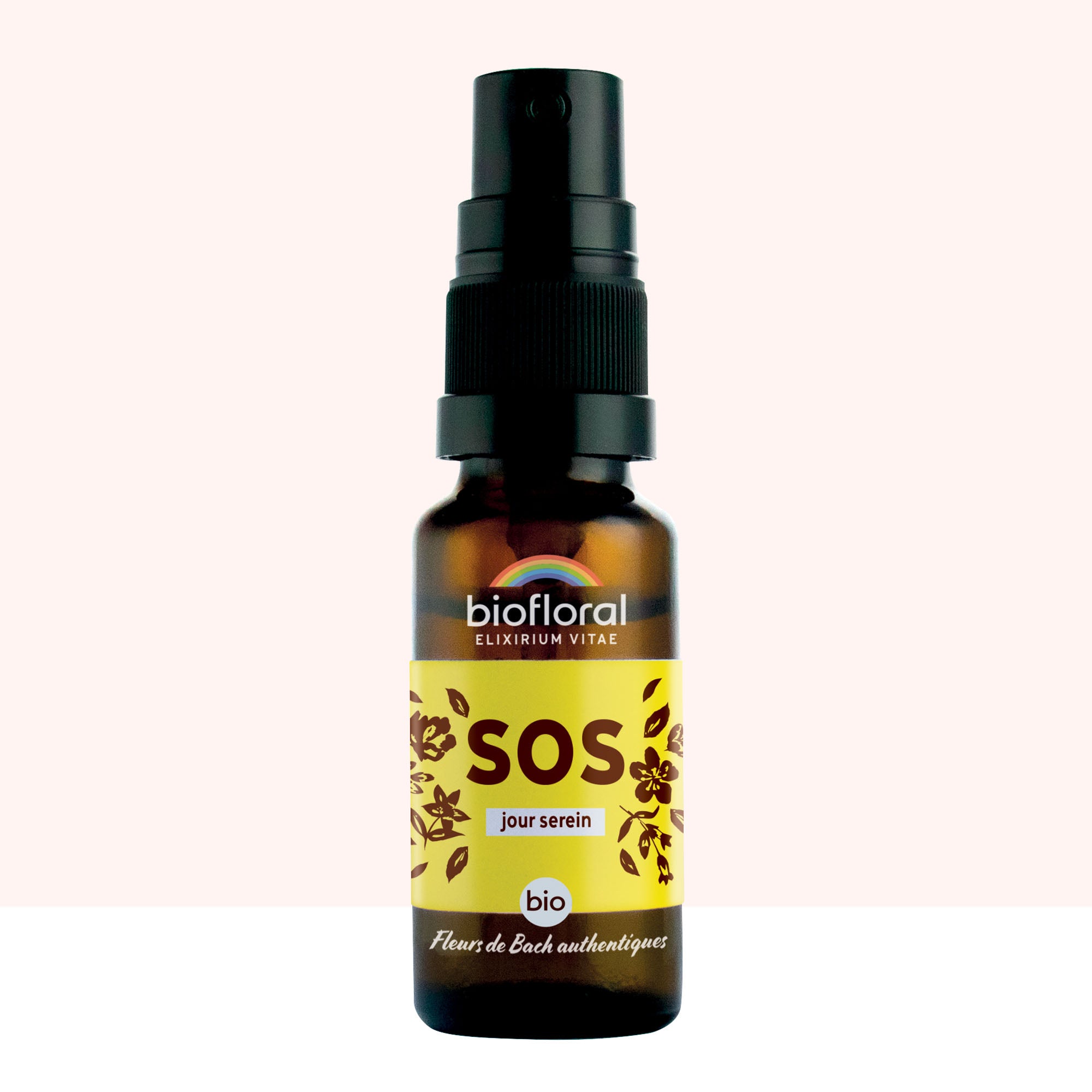 SOS peaceful day
Rescue complex 040 - spray - Organic
The most famous of the Rescue complexes, in its spray format always at hand, allows you to effectively manage difficult and agitated moments, contributes to the establishment of a new balance to quickly find inner calm.
detailed description

Based on 5 essences of Bach Flowers (Rock Rose, Impatiens, Cherry Plum, Clematis, Star of Bethlehem), the Rescue complex is particularly effective in managing all emotional upheavals: sudden fright, important appointment, moment of panic, etc. or any other disturbing circumstances. You quickly regain your composure and calm.
Composition

Organic cognac* Demeter**, preparation of spring water with organic Bach Flowers* according to the original method (Rock Rose / Helianthemum nummularium, Impatiens / Impatiens glandulifera, Clematis / Clematis vitalba, Cherry Plum / Prunus cerasifera, Star of Bethlehem / Ornithogalum umbellatum) at 1/240th.
How to use

"2 SPRAY Under the tongue or in a glass of water.
4X/DAY For 1 to 4 weeks.
If necessary, 1 dose every 1/4 hour."
Astuces

Harmonisez votre corps et votre esprit.
En complément du Complexe SOS Secours Jour, une pratique quotidienne de respiration profonde peut être très bénéfique. Dans le cadre d'approches holistiques, la respiration est un élément clé pour équilibrer nos émotions et le soutien des essences florales.

Voici comment procéder :

• Choissisez un lieu paisible et installez-vous confortablement
• Fermez les yeux et commencez à prendre conscience de votre respiration naturelle
• Inspirez lentement par le nez
• Retenez votre souffle pendant quatre secondes
• Expirez lentement par la bouche
• Répétez cet exercice pendant 5 à 10 minutes chaque jour

Cette technique de respiration profonde renforce votre connexion intérieure, votre ancrage avec le présent contribuant à une meilleure écoute de soi. Elle peut être particulièrement efficace lorsqu'elle est combinée avec le Complexe SOS Secours Jour, contribuant à optimiser l'impact sur votre équilibre émotionnel.
Usage precautions

Do not exceed the recommended dose. Does not replace a varied and balanced diet or a healthy lifestyle. Keep out of reach of young children.

Adutes




This product has no reviews yet.
*Free delivery from €35 of purchases at a relay point and from €50 of home purchases.