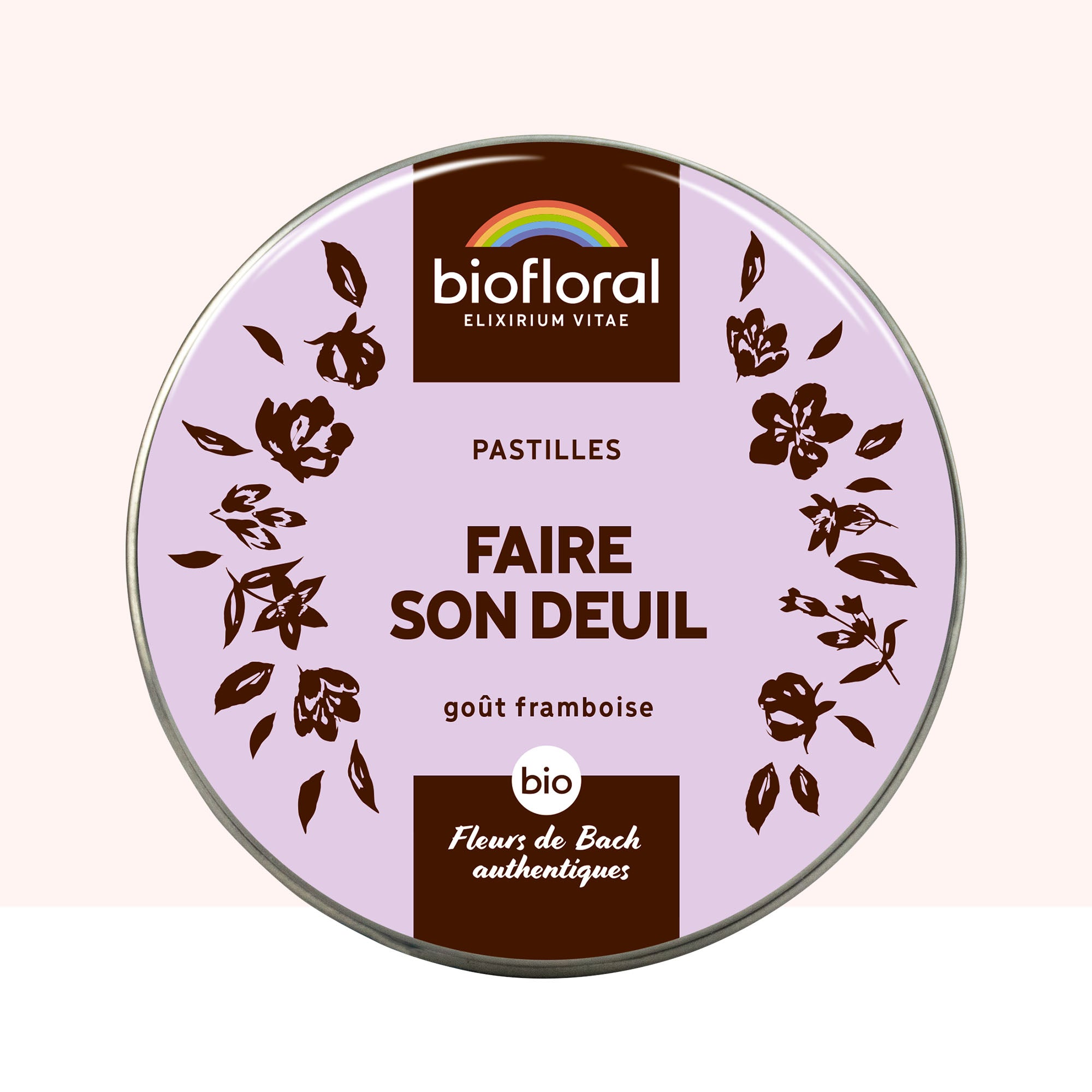 Emotion Complexes - Pastilles
Faire son Deuil - Bio
Traversez le processus du deuil grâce au Complexe Faire son Deuil en pastilles.
detailed description

Vous cherchez un allié naturel pour traverser le processus de deuil et retrouver la paix intérieure ?

Découvrez le Complexe Faire son Deuil bio en pastilles sans alcool de Biofloral. Fabriquée artisanalement et inspirée de la méthode originale du Dr Bach, cette synergie unique de 7 Fleurs de Bach biologiques vous accompagne dans votre reconstruction émotionnelle suite à la perte d'un être cher, une séparation ou un changement de vie.

Les Fleurs de Bach incluses sont les suivantes :
• N°29 Star of Bethlehem (Étoile de Bethléem) : pour trouver le réconfort après un choc émotionnel.
• N°24 Pine (Pin Sylvestre) : pour vous libérer de la culpabilité et avancer.
• N°38 Willow (Saule) : pour apaiser le sentiment d'injustice.
• N°30 Sweet Chestnut (Châtaignier) : pour retrouver la lumière et l'espoir.
• N°16 Honeysuckle (Chèvrefeuille) : pour vivre le présent sans être bloqué dans la nostalgie.
• N°35 White Chestnut (Marronnier Blanc) : pour apaiser les pensées répétitives.
• N°1 Agrimony (Aigremoine) : pour faire face aux difficultés avec discernement.

Pour qui ?
Le Complexe Faire son Deuil s'adresse à toutes les personnes qui traversent un choc émotionnel tel que la perte d'un proche, d'un animal de compagnie, un accident, une séparation difficile, un licenciement ou qui sont en pleine transition de vie comme la retraite. Faire son Deuil peut vous apporter un soutien et vous aider à "accepter" l'évènement et les émotions ressenties.

Changements positifs :
• Vous aide à vous libérer de la culpabilité et de la colère.
• Favorise le retour de la lumière et de l'espoir dans votre vie.
• Vous aide à mieux vivre le présent et à avancer sereinement.
• Apaise les pensées répétitives.
• Vous permet de faire face aux difficultés avec discernement.

Le Complexe Faire son Deuil vous accompagnera avec douceur tout au long de votre processus de deuil, vous permettant de vivre chaque émotion et de reconstruire votre vie avec sérénité.

Pratique, ce format sans alcool est également une option idéale pour ceux qui choisissent de ne pas consommer d'alcool.

Ce complexe Faire son Deuil est également disponible en spray.
Composition

Ingrédients : Sucre de canne*, Sirop de glucose*, Maltodextrine de maïs*, Gomme d'acacia*, Arôme naturel de framboise*, Fleurs de Bach* : Star of Bethlehem* (Ornithogalum umbellatum), Pine* (Pinus sylvestris), Willow* (Salix vitellina), Sweet Chestnut* (Castanea sativa), Honeysuckle* (Lonicera caprifolium), White Chestnut* (Aesculus hippocastanum), Agrimony* (Agrimonia eupatoria).
*Ingrédients issus de l'agriculture biologique.
How to use

Prendre 2 pastilles 4 fois par jour, ou en cas de besoin, toutes les 15 minutes.
Astuces

Pour optimiser l'action du Complexe Faire son Deuil, vous pouvez pratiquer la pleine conscience (mindfulness).

La pleine conscience est une technique qui vous permet de rester attentif et présent dans l'instant, sans jugement, en portant votre attention à vos pensées, vos émotions et vos sensations corporelles. Cela peut vous aider à prendre conscience de vos comportements, ce qui est essentiel pour changer votre routine au quotidien.

Cette technique complète parfaitement l'action du Complexe Faire son Deuil en renforçant votre maîtrise de soi et en favorisant un bien-être émotionnel durable.
Usage precautions

Ne pas dépasser la dose recommandée. Ne se substitue pas à un régime alimentaire varié et équilibré ni à un mode de vie sain. Tenir hors de la portée des jeunes enfants. Ce produit est à utiliser chez l'enfant de plus de 3 ans sous surveillance d'un adulte.

Femme enceinte OK

Pour toute la famille

à partir de 3 ans



This product has no reviews yet.
*Free delivery from €35 of purchases at a relay point and from €50 of home purchases.