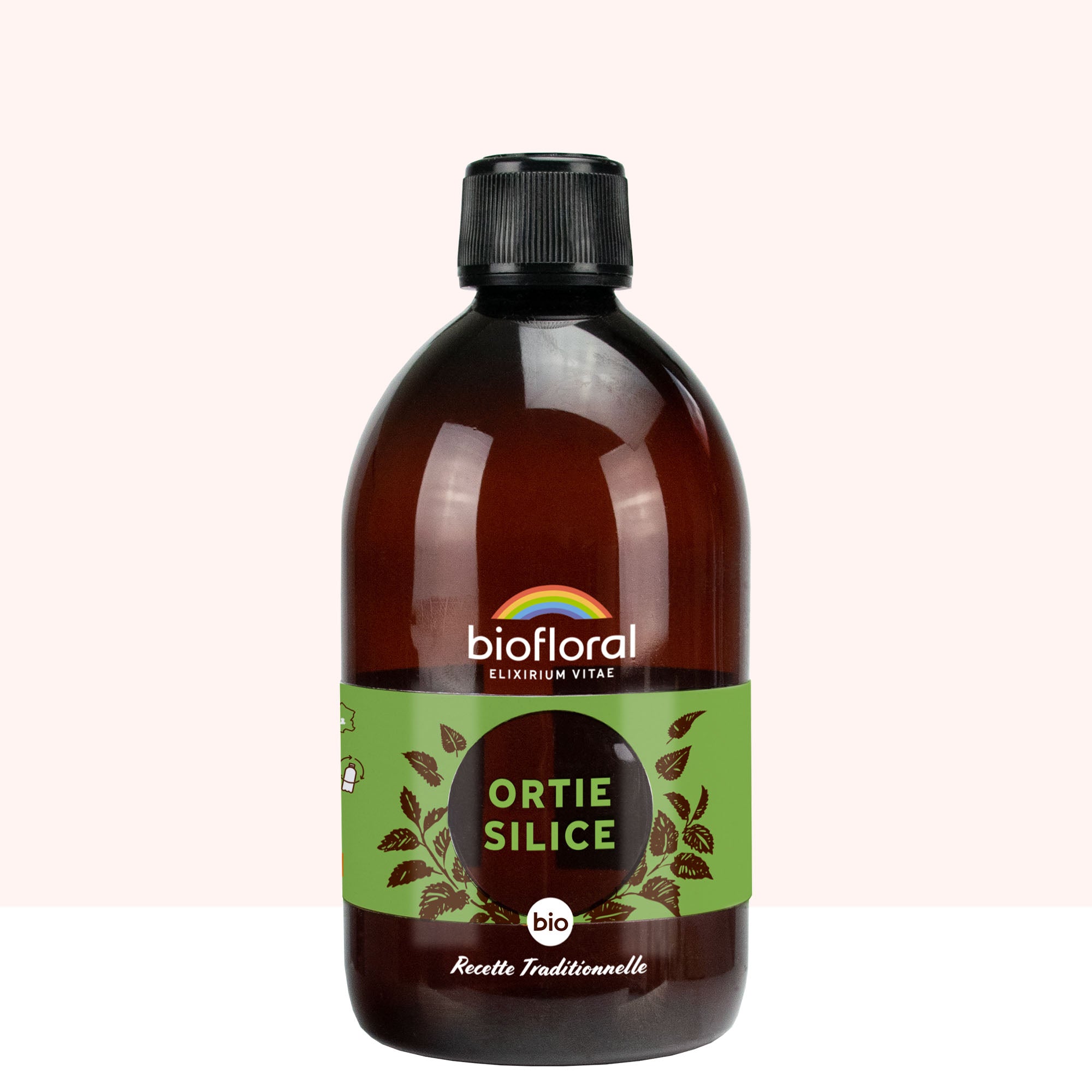 Traditional remedies
Nettle-Silica - Organic
Nettle Silica 500 ml, 100% ORGANIC, offers organic and natural silica extracted from Nettle, it is the only DEMETER certified one!
detailed description

Silica Nettle 500 ml, 100% organic and natural, is perfectly recognizable and assimilated by the human body. 100% plant-based, from Nettle, the silica is enriched by a manufacturing process where the Nettle solution is rhythmically energized on quartz and amethyst crystals to further increase effectiveness in depth. Certified DEMETER, Nettle Silica 500 ml is guaranteed without synthetic or mineral silica, without paraben, without side effects, without toxicity, it is effective as a maintenance treatment throughout the year. Silicon maintains joints, muscles and tendons and contributes to clear skin.
Composition

"Aqueous extract of nettles (Urtica dioica) (99.4%)**, acidifier (citric acid), essential oils*: thyme* (Thymus vulgaris), clove* (Eugenia caryophyllus), oregano* (Origanum vulgare ), cider vinegar*, grapefruit seed extract* (Citrus paradisi).
Without the addition of synthetic molecules, methyl or choline, paraben and chemical preservatives. Without mineral silica or silica dioxide which can cause an overload for the body."
How to use

1/2 CAP Before meals.
2 to 3X/DAY Occasionally, as an initial treatment, in a 28-day cycle, or as a maintenance treatment, several times/year.
2 bottles = 1 treatment.
Astuces

Pour optimiser les effets de l'Ortie Silice Bio de Biofloral et favoriser davantage la souplesse articulaire, la solidité des ongles et la beauté des cheveux, voici quelques conseils naturels :

Alimentation : Privilégiez les aliments riches en oméga-3 (saumon, graines de lin, noix) pour soutenir la santé articulaire.

Infusions : Buvez des tisanes de prêle des champs, riche en silice, pour compléter l'action.

Massage : Utilisez de l'huile d'arnica pour détendre les muscles après l'effort.

Bains : Un bain avec du sel d'Epsom détend muscles et articulations grâce au magnésium.

Hydratation Capillaire : Un masque à l'huile de coco hebdomadaire renforce vos cheveux.

Soin des Ongles : L'huile de ricin fortifie et favorise la croissance des ongles.

Exercices : Intégrez des étirements ou du yoga pour la flexibilité articulaire et musculaire.

En associant ces conseils à l'Ortie Silice Bio, vous maximisez votre bien-être
Usage precautions

Store away from light and heat and after opening, in the refrigerator. Consume within one month of opening. Do not exceed the recommended dose. Does not replace a varied and balanced diet or a healthy lifestyle. keep out of the reach of young children.

Adutes

Femme enceinte NON




This product has no reviews yet.
*Free delivery from €35 of purchases at a relay point and from €50 of home purchases.