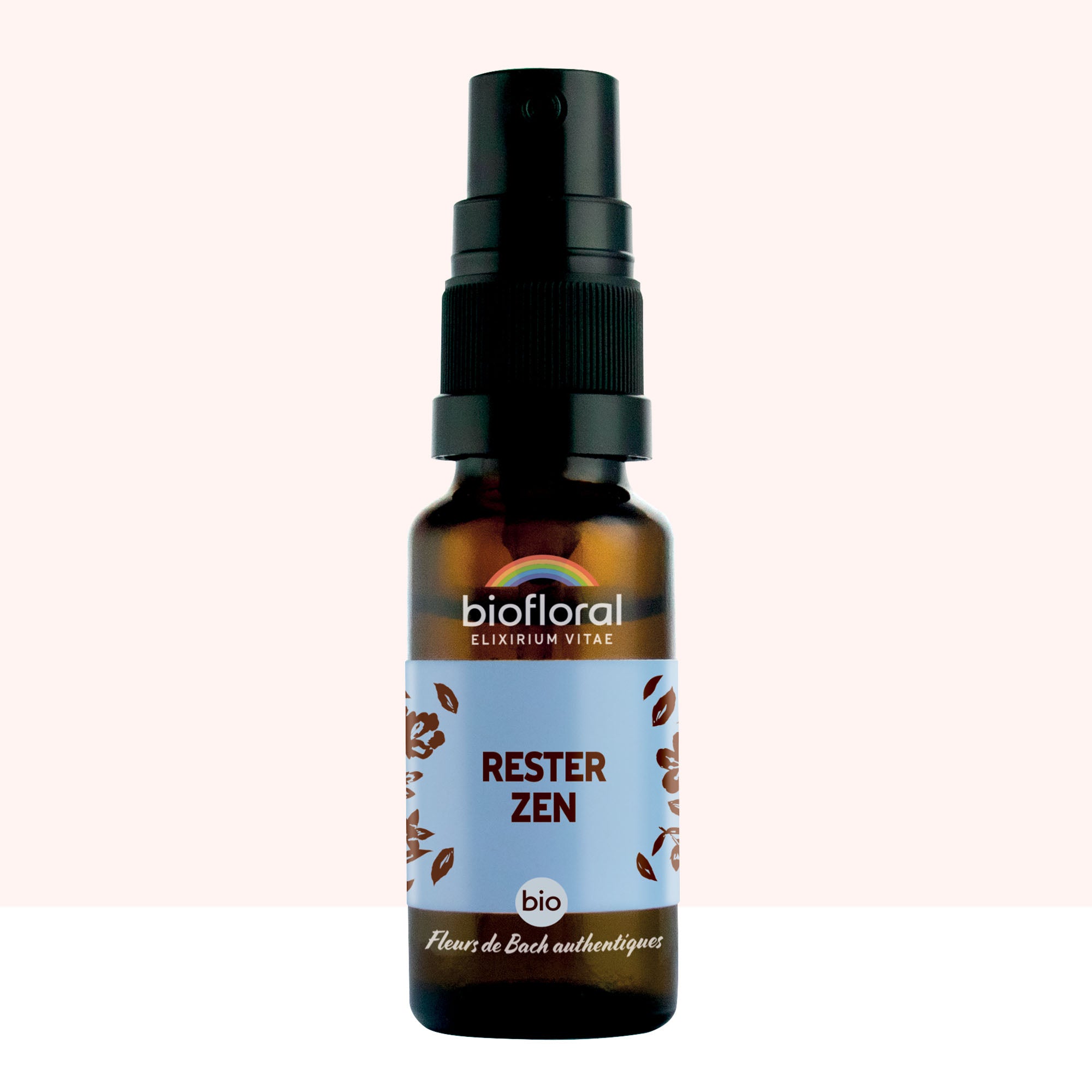 Emotion Complexes - Spray
Rester Zen - Bio Demeter
Retrouvez la sérénité émotionnelle grâce au Complexe Rester Zen en spray.
detailed description

Vous aspirez à un allié naturel pour pacifier votre esprit et trouver la tranquillité émotionnelle dans votre quotidien ?

Découvrez le Complexe Rester Zen spray bio aux Fleurs de Bach de Biofloral.

Cette synergie puise sa force dans l'union de 5 Fleurs de Bach biologiques, offrant un soutien doux pour retrouver sérénité :
• N°35 White Chestnut (Marronnier Blanc) : pour apaiser les pensées répétitives qui tourbillonnent sans fin.
• N°29 Star of Bethlehem (Étoile de Bethléem) : pour trouver réconfort et paix intérieure en toute circonstance.
• N°2 Aspen (Tremble) : pour rétablir la confiance et la sérénité face à l'inconnu.
• N°33 Walnut (Noyer) : pour favoriser l'adaptabilité aux changements et avancer résolument.
• N°25 Red Chestnut (Marronnier Rouge) : pour les inquiétudes excessives concernant vos proches.

Pour qui ?
Le complexe Rester Zen s'adresse à ceux qui sont soumis à de fortes demandes, que ce soit dû au travail, aux responsabilités familiales ou aux tâches ménagères. Il n'y a pas toujours une situation précise à l'origine du ressenti mais plutôt une accumulation de multiples facteurs.

Les pensées tournent en boucle, l'esprit s'épuise, les soucis pour les proches et les craintes pour l'avenir prennent le dessus.

Dans quels cas l'utiliser ?
• Lorsque votre enfant fait un caprice.
• Quand la machine à laver tombe en panne.
• En cas de retard au travail pour une réunion importante à cause des embouteillages.
• Lorsque vous laissez brûler le plat dans le four en vous occupant des enfants.
• Si vous n'arrivez pas à prendre du recul, même le week-end, à cause d'une liste interminable de choses à faire.

Avec le complexe Rester Zen, vous bénéficierez d'une aide précieuse pour faire face à ces sollicitations. Il favorise une sensation de calme, vous permet de prendre de la distance par rapport aux tâches du quotidien et vous aide à vivre plus sereinement.

Fabriqué de manière artisanale et inspiré de la méthode originale du Dr. Edward Bach, ce complexe est un compagnon indispensable pour cultiver votre bien-être émotionnel. Le Dr. Bach, de nationalité britannique, a démontré que les essences florales ont une influence positive directe sur l'harmonie émotionnelle.

Cette synergie est également disponible en pastilles sans alcool.
Composition

Ingrédients : Cognac (27% vol.)**, préparation aux Fleurs de Bach* : White Chestnut* (Aesculus hippocastanum), Star of Bethlehem* (Ornithogalum umbellatum), Aspen* (Populus tremula), Walnut* (Juglans regia), Red Chestnut* (Aesculus carnea) à 1/240e selon la méthode originale du Dr Bach.
*Ingrédients issus de l'agriculture biologique et **biodynamique.
How to use

2 pulvérisations sous la langue ou dans 1 verre d'eau, 4 fois par jour, pendant 1 à 4 semaines.
Astuces

Pour rester zen au quotidien, associez ce complexe Biofloral à la pratique de la méditation.

Prendre quelques minutes chaque jour pour méditer vous permettra de prendre du recul sur soi et sur les événements, de passer outre les situations délicates et de cultiver un sentiment de paix intérieure.

La méditation est une méthode naturelle et efficace pour favoriser l'équilibre émotionnel et vous aider à rester serein face aux défis de la vie.
Usage precautions

Ne pas dépasser la dose recommandée. Ne se substitue pas à un régime alimentaire varié et équilibré ni à un mode de vie sain. Tenir hors de la portée des jeunes enfants.

Adutes



This product has no reviews yet.
*Free delivery from €35 of purchases at a relay point and from €50 of home purchases.