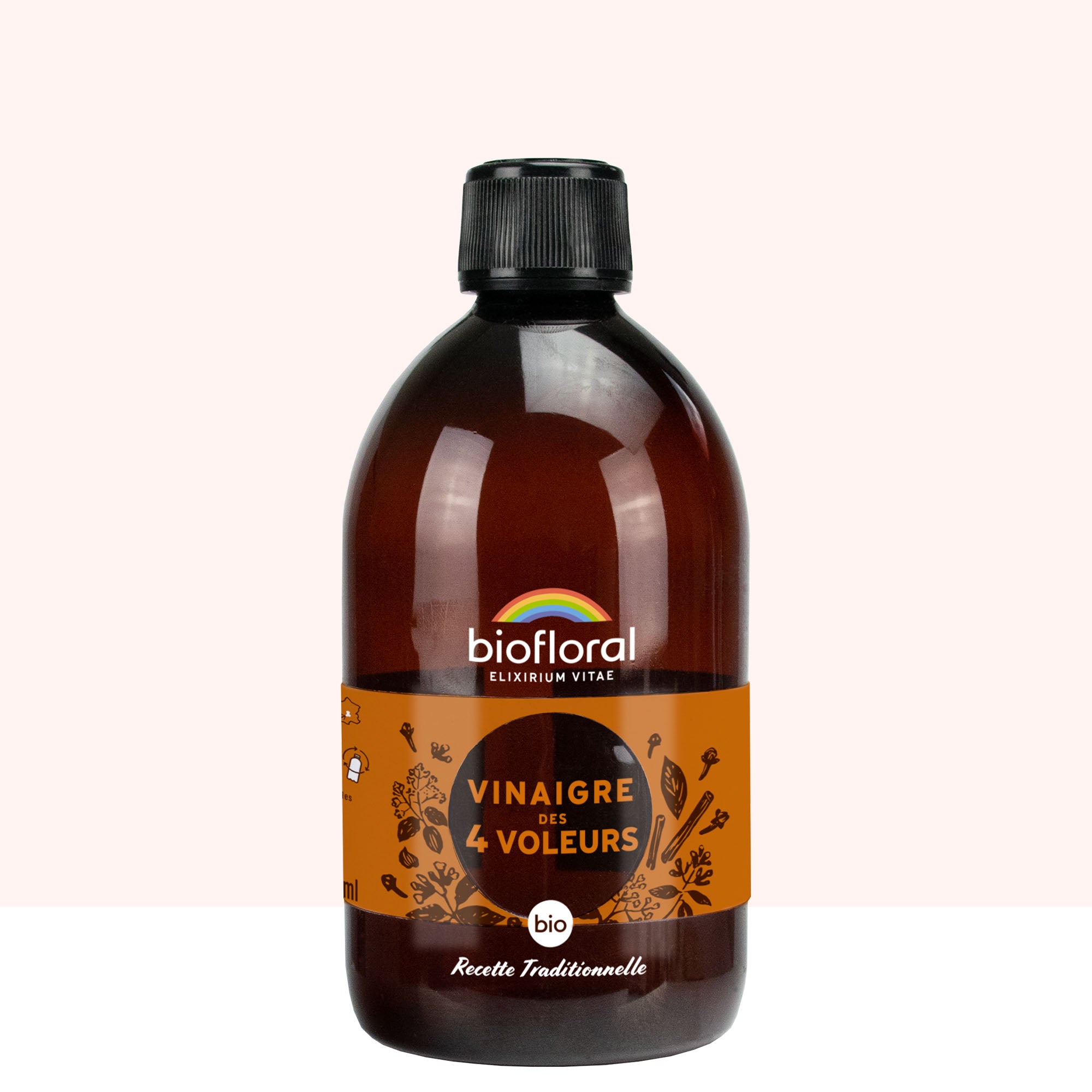 Traditional remedies
4 Thieves Vinegar - Organic
An ancestral remedy discovered during plague epidemics, with astonishing virtues!
detailed description

Renowned for its stimulating properties and its ability to increase immunity, 4 Thieves Vinegar truly works wonders in winter, thanks to the combined properties of peppermint, rosemary, sage and thyme which help to strengthen natural defenses.
The 17th century legend speaks of 4 brigands who robbed houses during a plague epidemic without being contaminated. Their secret? They drank and rubbed their bodies with vinegar in which they macerated various plants and spices!
The garlic which is part of the composition of this authentic remedy contributes to the defense against harmful micro-organisms (bacteria, fungi). It also has significant antioxidant properties, thanks to the synergy of cinnamon, garlic and cloves.
Particularly recommended as a gargle or inhalation for the throat and respiratory tract, but also for internal use, to boost in cases of fatigue.
Composition

Cider vinegar*, garlic* (Allium sativum - 0.862%), cinnamon* (Cinnamomum verum - 0.862%), clove* (Syzygium aromaticum), lavender* (Lavandula angustifolia - 0.578%), mint* (Mentha x piperita), rosemary* (Rosmarinus officinalis - 0.578%), sage* (Salvia sclarea), thyme* (Thymus vulgaris), wormwood* (Artemisia absinthium), chicory* (Cichorium intybus), nutmeg* (Myristica fragrans), nettle* (Urtica dioica ), natural camphor (Cinnamomum camphora).
How to use

"Internally:
1 tablespoon: pure or diluted in water 1 time per cheek for prevention
2 tablespoons per day or more in water for stronger action"
Astuces

Pour amplifier les bienfaits du Vinaigre des 4 Voleurs, vous pouvez concocter une tisane fortifiante qui soutient le système immunitaire.

Voici une recette simple d'une tisane pour l'immunité :

Ingrédients :
Gingembre frais tranché (environ 2 cm)
1 cuillère à soupe de miel bio
1/2 citron frais pressé
Eau bouillante

Préparation :
Placez le gingembre tranché dans une tasse.
Versez de l'eau bouillante dessus.
Laissez infuser pendant 5 minutes.
Ajoutez le miel bio et le jus de citron frais.
Remuez bien et buvez tiède.

Le gingembre et le citron sont tous deux reconnus pour leurs propriétés assainissantes, tandis que le miel apporte une douceur apaisante pour la gorge. En associant cette tisane avec votre Vinaigre des 4 Voleurs, vous offrez à votre corps une double protection naturelle pour booster vos défenses naturelles.
Usage precautions

Contains natural camphor, contraindicated for children under 7 years old, people sensitive to camphor or suffering from proven heart problems. Do not use in pregnant women. Do not exceed the recommended dose. Does not replace a varied, balanced diet or a healthy lifestyle. Keep out of reach of young children.

Femme enceinte NON

Pour toute la famille

à partir de 7 ans



This product has no reviews yet.
*Free delivery from €35 of purchases at a relay point and from €50 of home purchases.