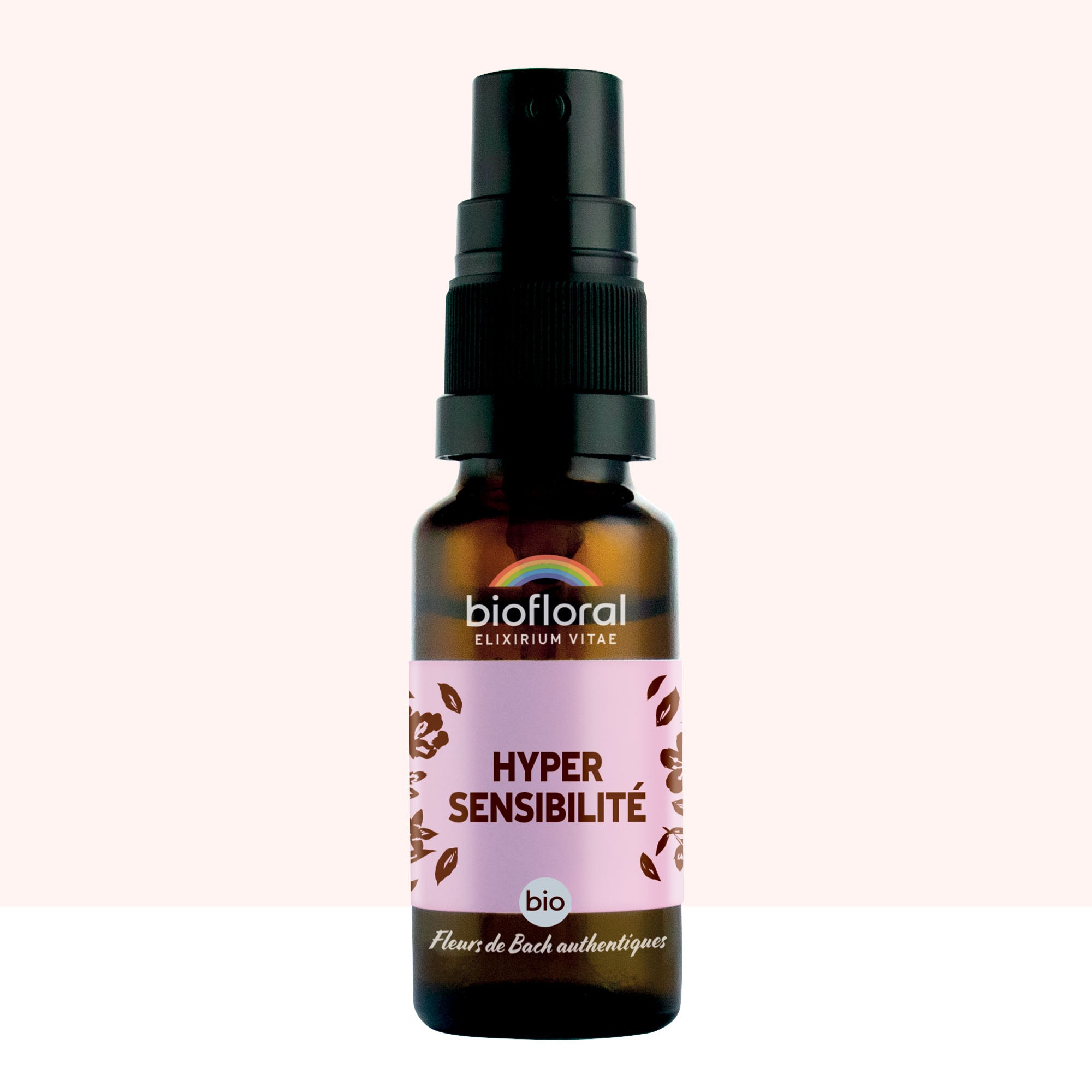 Emotion Complexes - Spray
Hypersensibilité - Bio Demeter
Gérez votre hypersensibilité émotionnelle grâce au complexe Hypersensibilité en spray.
detailed description

Vous êtes en quête d'un allié naturel pour mieux gérer votre hypersensibilité émotionnelle au quotidien ?

Découvrez la Synergie Hypersensibilité bio en spray de Biofloral.

Cette synergie, élaborée avec soin à partir de 6 Fleurs de Bach biologiques, offre un accompagnement doux pour les âmes sensibles :
• N°25 Red Chestnut (Marronnier Rouge) : pour vous permettre de ne plus vous préoccuper excessivement du bien-être des autres.
• N°18 Impatiens (Impatience) : pour maitriser toutes réactions émotionnelles parfois disproportionnées.
• N°10 Crab Apple (Pommier Sauvage) : pour vous accepter et vous aimer tels que vous êtes.
• N°30 Sweet Chestnut (Châtaignier) : pour ne pas laisser vos émotions, en particulier la tristesse, prendre le dessus.
• N°38 Willow (Saule) : pour être moins susceptible.
• N°33 Walnut (Noyer) : pour vous aider à vous adapter aux changements de la vie et à avancer résolument.

À qui s'adresse ce complexe :
Ce complexe s'adresse à toutes les personnes à fleurs de peau qui vivent leurs émotions de manière intense et se sentent parfois submergées. Si vous vous préoccupez excessivement du bien-être des autres au point que leurs problèmes deviennent les vôtres, si vos sens sont exacerbés, cette synergie peut vous aider.

Avec le complexe Hypersensibilité, vous apprendrez à accepter vos émotions sans les laisser vous submerger, vous vous sentirez protégé et rassuré. Vous ne prendrez plus les choses ou les événements trop à cœur, et vous vous sentirez en harmonie avec vos émotions.

Ce complexe vous aidera à :
• Vous sentir plus en harmonie avec vos émotions.
• Ne plus vous laisser submerger par vos sensibilités.
• Cesser de prendre les choses ou les événements trop à cœur.
• Vous sentir protégés et rassurés face aux défis émotionnels.
• Réduire l'impact de vos réactions émotionnelles excessives.
• Trouver l'équilibre émotionnel dans votre vie quotidienne.

Ce complexe est fabriqué de manière artisanale et inspiré de la méthode originale du Dr. Edward Bach, de nationalité britannique. Il a démontré que les essences florales ont une influence positive directe sur l'harmonie émotionnelle.

Ce complexe Hypersensibilité est également disponible en format pastilles sans alcool.
Composition

Ingrédients : Cognac (27% vol.)**, préparation aux Fleurs de Bach* : Red Chestnut* (Aesculus carnea), Impatiens* (Impatiens glandulifera), Crab Apple* (Malus pumila), Sweet Chestnut* (Castanea sativa), Willow* (Salix vitellina), Walnut* (Juglans regia) à 1/240e selon la méthode originale du Dr Bach.
*Ingrédients issus de l'agriculture biologique et **biodynamique.
How to use

2 pulvérisations sous la langue ou dans 1 verre d'eau, 4 fois par jour, pendant 1 à 4 semaines.
Astuces

Pour contrôler votre hypersensibilité émotionnelle, envisagez la méditation quotidienne.

Prenez quelques minutes chaque jour pour vous asseoir confortablement, fermer les yeux et vous concentrer sur votre respiration.

Respirez profondément et lentement en faisant attention à chaque inspiration et expiration. Cela vous aidera à vous recentrer, à garder le contrôle et à mieux gérer vos émotions.

La méditation régulière peut contribuer à renforcer votre équilibre émotionnel au fil du temps.

Associez cette pratique à la Synergie Hypersensibilité Bio aux Fleurs de Bach de Biofloral pour un soutien émotionnel complet.
Usage precautions

Ne pas dépasser la dose recommandée. Ne se substitue pas à un régime alimentaire varié et équilibré ni à un mode de vie sain. Tenir hors de la portée des jeunes enfants.

Adutes




This product has no reviews yet.
*Free delivery from €35 of purchases at a relay point and from €50 of home purchases.